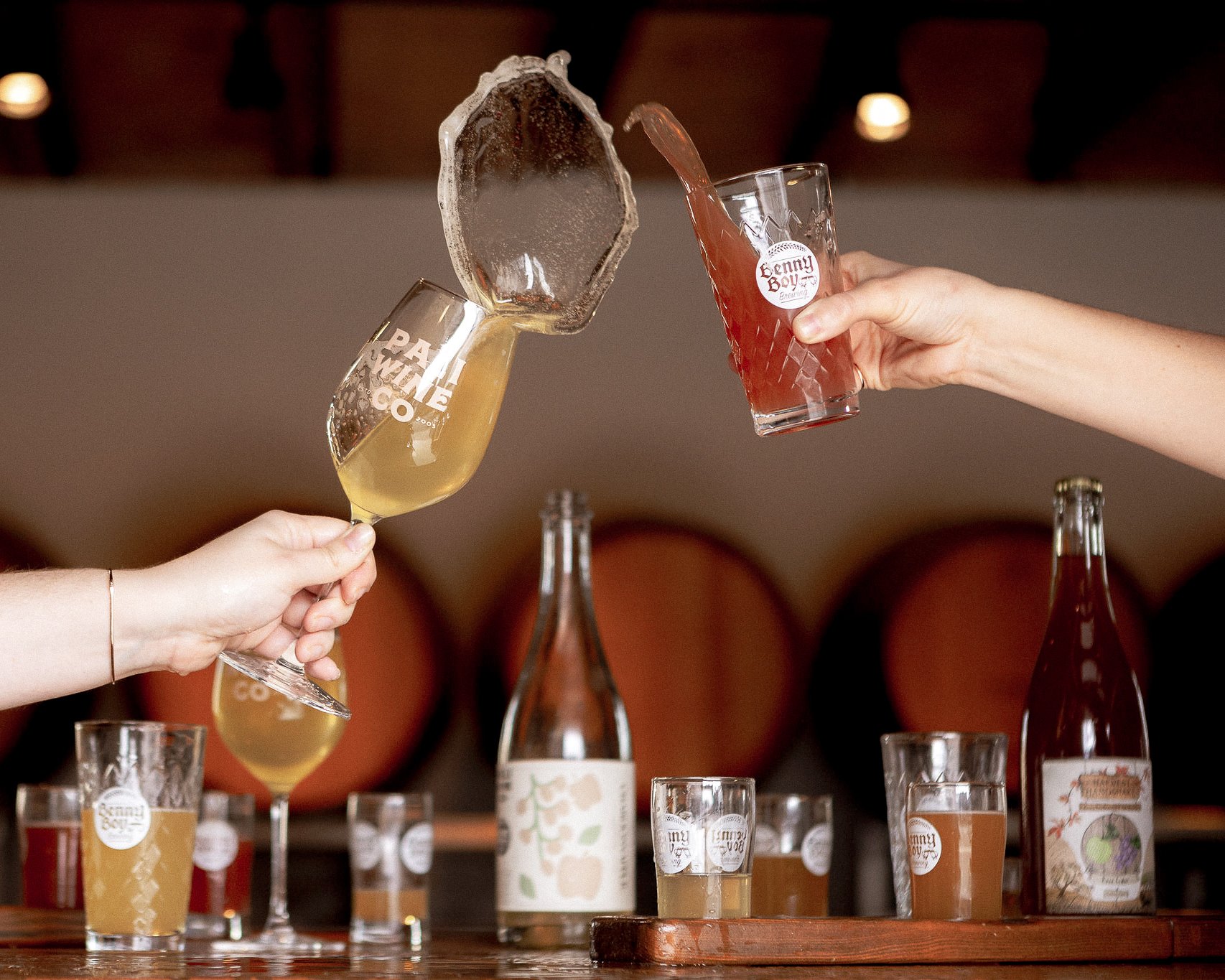 When we reflect on our journey, we are very proud of our diverse and nuanced wines. We continue to embrace challenges and are always open to trying new things. Over the years we've made wine with more grape varieties than we can remember, we've tried different winemaking styles and have worked with a community of diverse farmers on California's long coastline.
Our portfolio is uniquely eclectic, and our experimentation and curiosity is always met with your support. In fact, if we're certain about one thing, it's that we have the coolest and most open-minded customers!
Each vintage we learn so many new things and make a ton of friends with unique talents and interests along the way.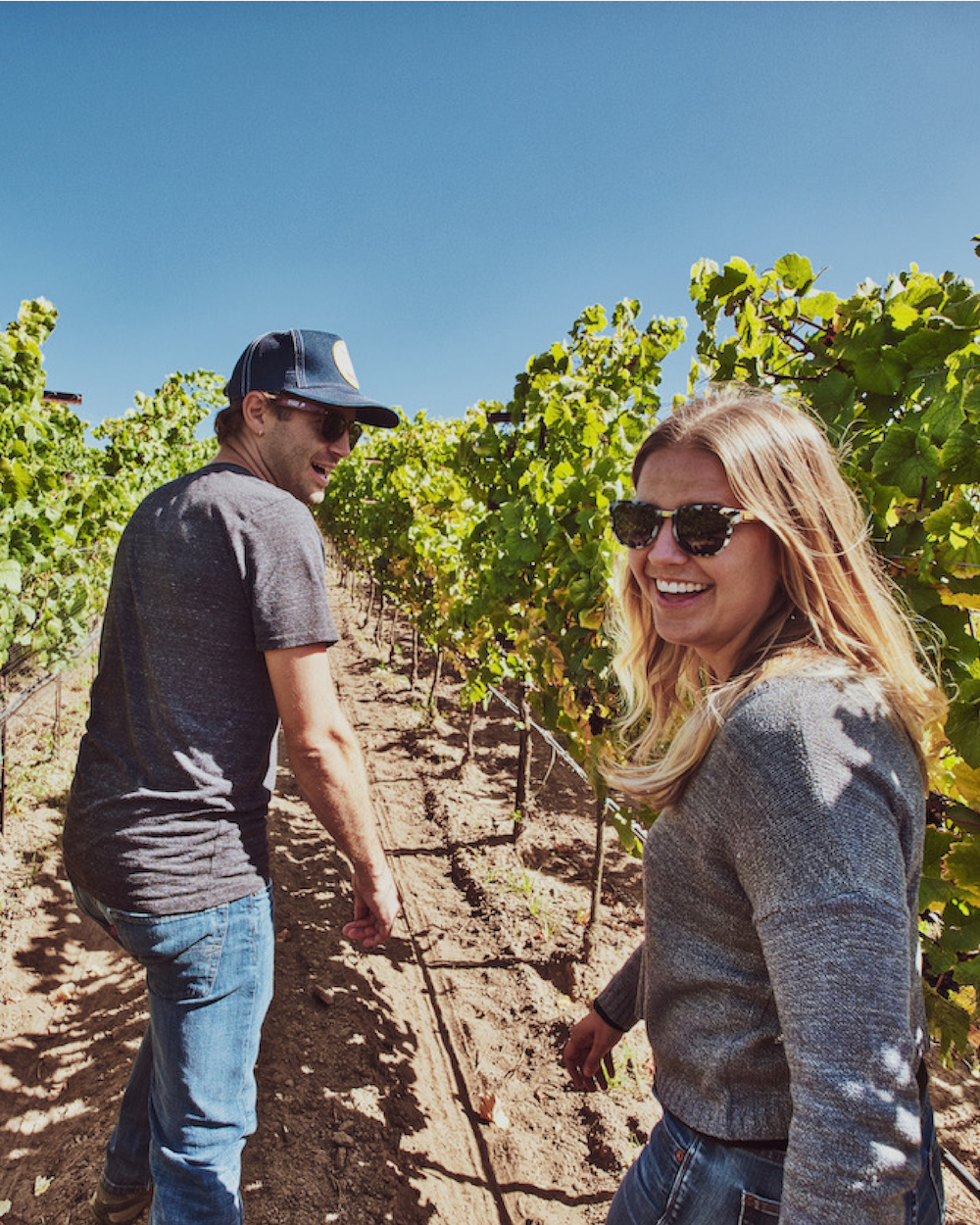 We met Ben and Chelsey when they were in the process of building their brewery and cidery in Lincoln Heights more than two years ago. We immediately connected over our shared appreciation for old-world fermentation traditions to produce beer, cider and wine. We invited Ben and Chelsey to our winery, and over a lunch of homemade Santa Maria BBQ we wondered … How can we combine our passions and share them with our friends?
This year we finally did - we swapped Pinot Noir grapes from our estate vineyard and Newtown Pippin apples from Benny Boy's favorite orchard in Watsonville, CA. Together we created two unique co-ferments that let the fruit do all the talking (and natural yeasts do the fermenting). Enter 'Chardonnapple' and 'Harvest Handshake!'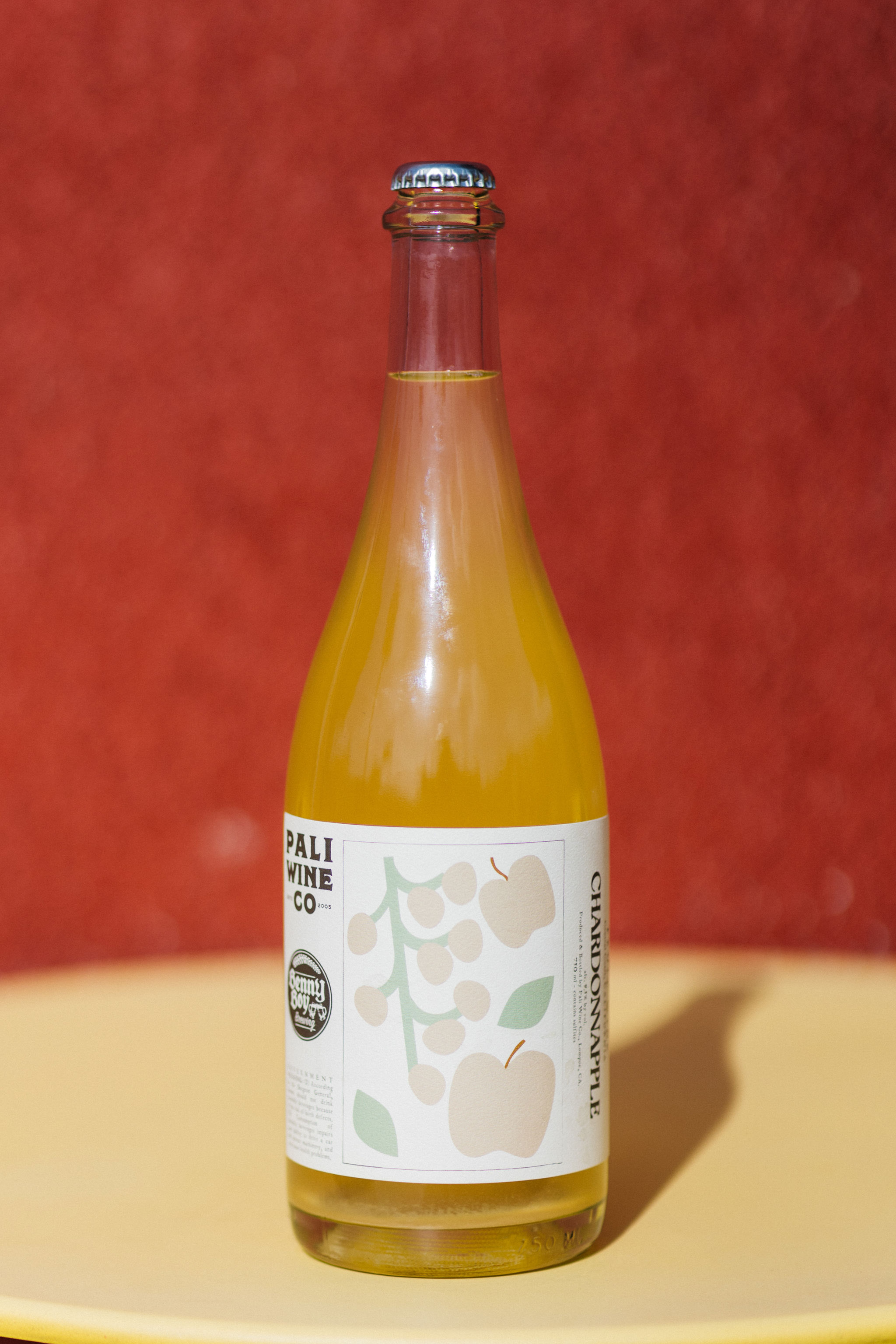 'Chardonnapple' is young, fresh and zippy with natural bubbles. We co-ferment our estate grown Chardonnay with Newtown Pippin apple juice in a single stainless steel tank. Together, the sweet fruit juices ferment slowly before they are bottled at the tail end of their primary fermentation to capture the carbonation in the bottle.
Our winemaker, Aaron Walker describes "Chardonnapple": "fresh apple aromas jump out of the glass, backed with honeydew, lemon verbena and sea salt with a beautiful straw color. Dry, crisp and refreshing on the palate with flavors of fresh apple, lemon peels, crushed flowers, graphite and peaches."
"Chardonnaple" is not our first foray in natural winemaking, but usually this style of wine is bottled under our sister label Neighborhood Winery.
Natural winemaking is ancient; these age-old fermentation techniques and the hand crafted equipment are what Ben and Chelsey find most exciting about their brewing and winemaking operation. When Ben ferments, he draws inspiration from the legendary craftsmen he's met in travels from Belgium, UK and France. Ben has learned to make beer and cider straight from the farm, without filtration, as natural as possible.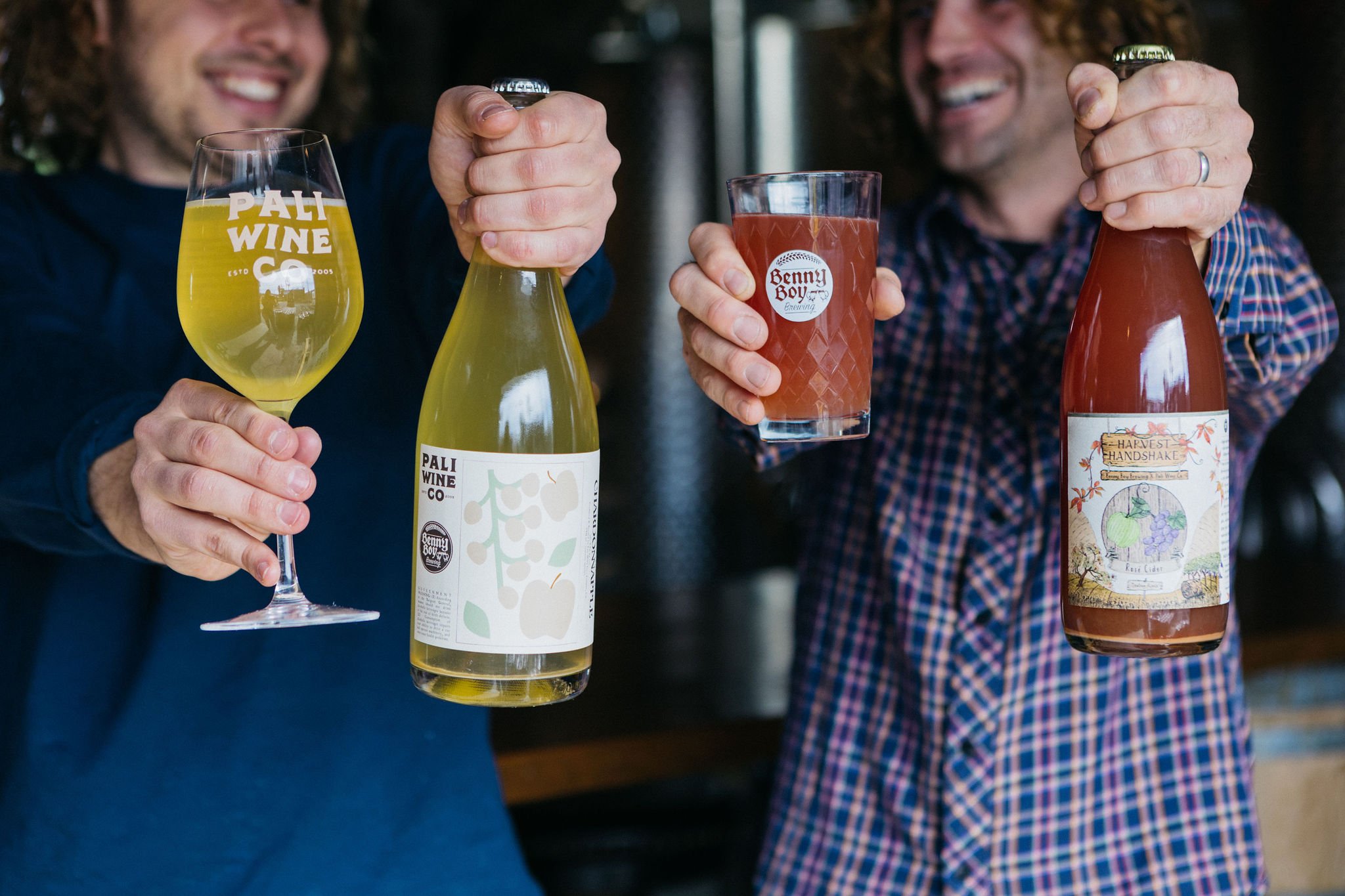 Ben and Chelsey say it best: 'Cider is wine!' And with that 'Harvest Handshake' was born.
Ben and Chelsey combine their Newtown Pippin juice and upcycled Pinot Noir pomace from estate grown grapes. No yeast is added during the slow, wild fermentation which hangs out for 3 months before its bottle conditioning. A natural maceration dyed the wine a flushed, rosy color. Harvest Handshake has the aromas of a natty pinot, with a fizzy explosion you expect from Ben's inspired ciders.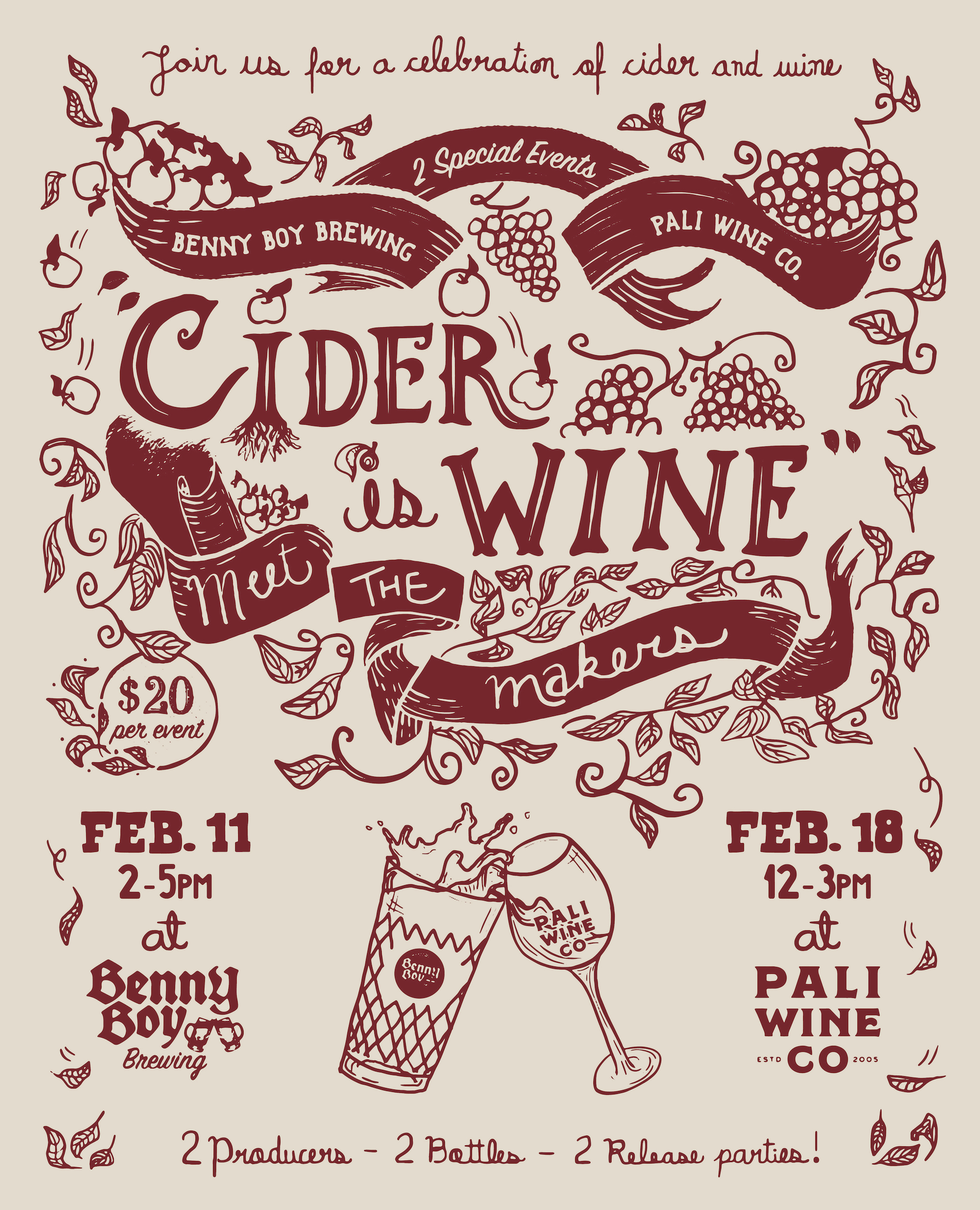 Our collaboration with Benny Boy represents a friendship - we're enamored with our neighbors and friends, their pursuit and passion for fermentation is inspiring. To celebrate, we are having two events with Benny Boy Brewing in February, hosted at our outpost and their brewery:
Tickets are available for purchase from both Pali and Benny Boy Brewing. Bottles available for purchase from Pali Outposts and online, while supplies last since quantities are extremely limited and will go quickly!
Meet the Makers
Saturday, February 11
2-5PM @ Benny Boy Brewing
Saturday, February 18
12-3PM @ Pali Wine Co., Arts District
Photo Credits: Marcus Henderson and Kat Hanegraaf